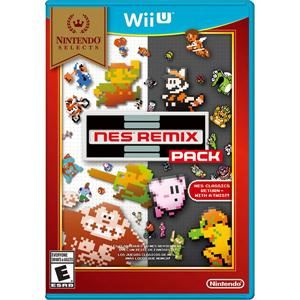 NES Remix Pack
NES Classics Return- With A Twist! Remixed and Reborn!

General Information
Manufacturer:
Nintendo Co., Ltd
Brand Name:
Nintendo
Product Name:
NES Remix Pack
Marketing Information:
Try your hand at an onslaught of rapid-fire challenges and mash-ups of over 25 of the greatest retro games from the NES™ era! Improve your scores by reattempting stages, then share your replays with other players online.

Start out by completing simple challenges like collecting coins in the original Super Mario Bros. ™ game or reaching the finish line in one race of Excitebike™. Then, test your skills by taking on increasingly difficult challenges, like attempting to complete one level of the original Donkey Kong™ game with only a spotlight on your character! Share your accomplishments with other players through the NES REMIX Miiverse™ online community. Earn high scores to unlock more challenges, and experience Super Luigi Bros., the reverse-oriented version of the original Super Mario Bros. game featuring none other than Luigi™ himself!
Dominate action-packed chunks of retro Nintendo games such as Super Mario Bros.™, The Legend of Zelda™, and Donkey Kong™
Test your skills in a series of altered 8-bit challenges
Features game play from over 25 classic 8-bit Nintendo games
Reattempt stages to improve your times and unlock more challenges
Challenges from NES™ REMIX 2 include bite-sized chunks of Super Mario Bros.™ 3, Zelda II- The Adventure of Link™, Metroid™, Kid Icarus™, and Kirby's Adventure™, among many others
Share your replays with the NES™ REMIX Miiverse™ online community
Connect to the Nintendo eShop to download full versions of your favorite classic games.
Product Type:
Software
Product Information
Software Main Type:
Game
Software Sub Type:
Games Collection
Software Name:
NES Remix Pack
ESRB Rating:
E (Everyone)
Multiplayer Supported:
Yes
Network Compatible:
Yes
Platform Supported:
Wii U