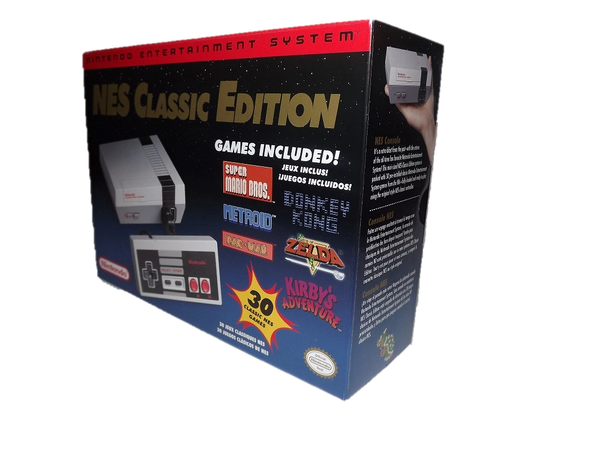 NES Classic Edition
The NES Classic Edition system is a miniaturized version of the groundbreaking NES, originally released in 1985. Just plug the NES Classic Edition into your TV, pick up that gray controller, and rediscover the joy of NES games.
What's in the box?
NES Classic Edition system
One NES Classic Controller
HDMI cable
AC adapter
30 pre-installed games...Super Mario Bros., Donkey Kong, The Legend of Zelda, PAC-MAN, Dr. Mario, Mega Man 2, FINAL FANTASY,  Super Mario Bros. 2,  Metroid, Kirby's Adventure, NINJA GARDEN, Super Mario Bros. 3, Punch-Out! Featuring Mr. Dream, Balloon Fight, Donkey Kong, Jr., Zelda II: The Adventure of Link, Excitebike, Ice Climber, Kid Icarus, DOUBLE DRAGON II: THE REVENGE, BUBBLE BOBBLE, TECMO BOWL, Castlevania II: Simon's Quest, Mario Bros., SUPER C, Galaga, StarTropics, GHOSTS'N GOBLINS, GRADIUS.
NES Classic Controller Works with NES Virtual Console games on Wii U, too
Play NES games the way they're meant to be played—with a full-size "original" controller. The included NES Classic Controller can also be used with NES Virtual Console games on your Wii™ or Wii U™ console by connecting it to a Wii Remote™ controller.
Plus these fun features
Save your game with Suspend Points
Pick up right where you left off with four Suspend Point slots for each game. Just press the Reset button while playing to return to the HOME menu and save your progress to a slot. Have a perfect run going? You can lock your save file and resume at a later time so there's no danger of losing your progress.