N64 Controller (Clear-Turquoise)-CIRKA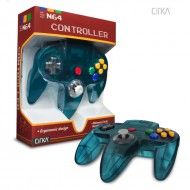 N64 Controller (Clear-Turquoise)-CIRKA
Replace your lost or broken Nintendo 64 controller with this brand new 3rd party CIRKA Nintendo N64 wired controller, or just pick up a second, third, or fourth controller. Comes with a 30 day guarantee.
* Just plug and play. Designed for comfort and extended play.
* Memory card slot/rumble pack slot.
* Also has your start, L, B, R, C, and A buttons. As well as your analog joystick and directional pad.