72 Pin Connector, 3.8mm Bit Driver, Contact Cleaning Eraser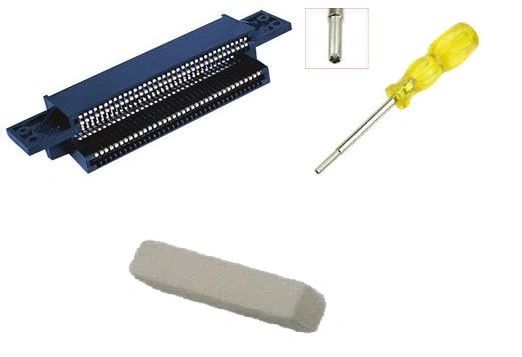 72 Pin Connector, 3.8mm Bit Driver, Contact Cleaning Eraser
If you are putting your NES games into your system and getting a blank or blinking screen you most likely need to replace your systems 72 pin connector. The only tool you need to do this is a Phillips Screwdriver and a few minutes of time. This brand new 72 pin connector is a very high quality connector.
The 3.8 mm screwdriver and game contact cleaner are two very important items to have if you are going to install a new 72 pin connector in your Nintendo System. These items will help you to clean off the years of dirt, grime, and oxidation buildup that has accumulated on the contacts after years of lying around the house. Remember some of these games are 30 years old.
You will also receive detailed instructions with pictures on how to install your 72 pin connector and clean your games. These instructions are easy to follow. You will also receive contact information with a phone number after purchase is made for any troubleshooting problems you may have.